Let Cai Shen shower you with good fortune
Cai Shen is the Chinese God of Wealth. It is said he could turn a hoe into a rod of gold and would grant the wishes of his favourite believers.
It's no surprise then that Habanero made him the host and one of the featured symbols of their Wealth Inn. In another nod to Chinese culture, the reels are bright red and gold, colours that symbolise prosperity luxury, blessings, and divinity.
The game may lack some of the modern features of other slots, it offers its own unique charm and the potential for lucrative wins. The excellent graphics suggest a traditional and elegant Chinese feast, complete with traditional symbols of fortune and prosperity. Surrounded by fortune cookies, players can't help but feel that luck is on their side, promising exciting wins.
Starting to play Wealth Inn is easy. Adjust your bet or the value of the coins you play with and start to spin the reels. You can play up to ten coins across any of the 8 active lines on 3X3 reels. Despite the simplicity, Habanero boasts a multiplier of up to 1 504X their stake. To win, player must line up three matching symbols on the same line.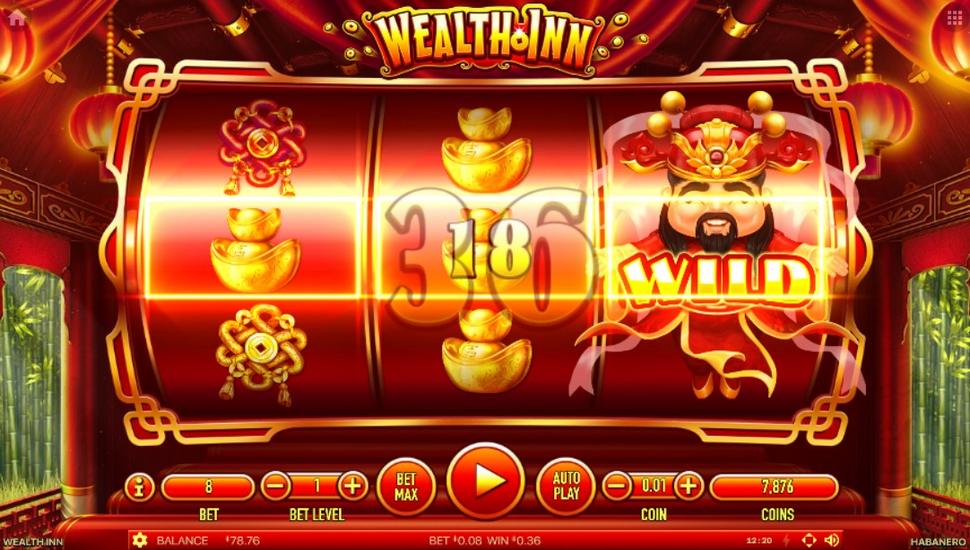 The game symbols include bars, jade and red, gold, and green coloured knots. These knots have the lowest value. As for the in-game features, there is only one worth checking out, an expanding wild which can take over an entire reel.
Cai Shen is the Wild symbol, has the highest value and acts as a replacement symbol in any win. Players can win if they have two symbols plus a Wild, with the lowest value symbol determining the value of the prize.
Wealth Inn makes up for its lack of features with brilliant design, blending classic game appeal with Oriental grandeur.
Step into Cai Shen's inn and you are greeted by a sense of no-cost spared lavishness. The backdrop is a vivid interior of red and gold, with paper lanterns casting a warm glow on the gold lined reels. And of course, Cai Shen centre stage representing good fortune and grandeur.
Wealth Inn combines classic vibes with modern graphics and animation. It does not offer an abundance of features but the expanding Cai Shen Wild adds a dash of excitement to the game.
It's a low volatility game that offers steady small wins, so if you're a high roller looking for colossal pay-outs this is not the game for you. For the rest of us, Wealth Inn is a hidden gem. It offers a touch of nostalgia and low risks. It's a fortune cookie, with each spin holding the promise of surprising rewards and endless fun.
So, let Cai Shen, the God of Wealth, guide you to prosperity!