The Play Vegas game Cash Volt is a striking, funky game – from the lighting to the symbols, all the way down to the background music. This game is perfect for those who love dancing around to some good music while winning money! The entire reel board is coloured in a purple haze with lights moving across the reel board. Are you ready to be in the spotlight and unlock the volt? Get ready to Bet, Spin, Play, Win!
BASIC SYMBOLS TO UNDERSTAND:
Paying Symbols:
Within the Play Vegas game Cash Volt there are several different paying symbols. The lower paying symbols consists of a cherry, a lemon, symbol that reads bar, symbol that reads bar bar, and the last symbol reading bar bar bar. These symbols help make up your reel board, along with the higher paying symbols. The higher paying symbols consist of a star, horseshoe, bell and a 7. These symbols help you to unlock the volt holding all the cash!
Scatter Symbol: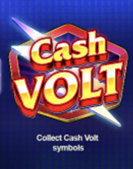 This specific feature within Cash Volt is a stunning way of winning bigger rewards for less! Achieving six or more scatter symbols in a single spin pays out an instant prize. Depending on how many Cash Volt symbols you get in a single spin will determine your winning amount. Getting 6 Cash Volt symbols will give you 5x your original win, receiving a higher amount of Cash Volts symbols such as 11 will payout 250x your original win– however, to truly unlock the volt you need to win 15 Cash Volt symbols in a single spin, this will reward you with 2500x your original win!
Super Cash Volt: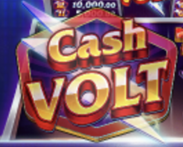 Super Cash volt symbols look the same as the regular scatter, however they hold a higher value of money! There are two variations including a 2×2 and a 3×3.You will know when these appear as they will be over either 2 or 3 reels.The super cash volt symbols are wrapped in an energy source.
Paylines:
Cash Volt like many other Play Vegas games pays out from the most left reel towards the right. Therefore, you need to get a single type of symbol from the reel on the most left side all thy way adjacent to the left. Here is an image of exactly how the win lines work and what they look like when you get paid:

Basics on how to play Cash Volt:
Now that you have all the keys to unlock the riches that lie within the volt, you are ready to play. Cash Volt is a simple game, able to pay out massive rewards! Now that you understand the basics symbols, the first thing you're going to do is see how much money you have in your Supabets account, this is the money you will be able to place bets with. This amount can be seen in the top left-hand side of your screen this is labelled as the "balance". You will then choose your bet; this is the amount of money you will be spending every time you spin the reel. Your bet amount can be found on the bottom left-hand side of your screen (if you are playing on mobile it will be in the middle of your screen), this is seen as your "stake".
To change your bet amount, click on the "stake" button on the left-hand side of your screen (when playing on mobile it will be in the middle of your screen), once you have clicked the stake button several different stake amounts will pop up. Here you will choose your bet amount – remember the bigger the bet the faster you will unlock the full value of the volt! Now that you've got your bet amount, you're ready to spin. To start playing simple click the space bar on your computer (if you are playing on mobile click the big arrows in the middle of your screen), if you do not win the reel will stop in place and you will be able to spin again. However, when you do win the winning symbols will light up and they will be joined together with a line, your winnings will be added up at the bottom of your screen. If you need any more information, at the bottom left-hand side of your screen there is a button, that reads "help" as well as another one that reads "pays" clicking on either of these will give you all further information that you will need.
You now have got all the keys to unlock CASH VOLT, create your account on supabets.co.za to start unlocking your money!