A trip down memory lane with a retro inspired fruit slot game
Red Tigers 777 Strike takes its design inspiration from old school slots. We're talking reels covered in juicy fruit and Lucky 7's set against the familiar simple green back ground. Even its toe-tapping theme tune sounds like a composer's idea of what music would be in 1996.
You may be thinking that nostalgia is not your cup of tea, but we promise this game is a blast. It is also straightforward and easy to play with the big draw of potentially lucrative Free Spin rounds.
Free Spin round can be triggered twice for guaranteed wins first time round and Sticky Wilds on the replay.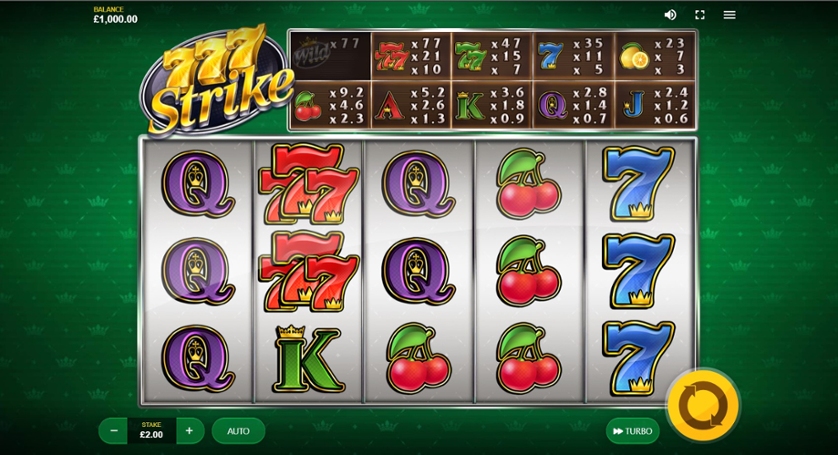 Click on Stake to place your bet.
To start click on Spin or press your space bar.
Winnings are determined by dividing total stake by paylines multiplied by multiplier.
Each payline pays out only once per spin.
The Wild symbol can substitute for any game symbol to create winning combinations.
Hit the Fast Forward button to speed up the reels.
Auto function spins the reels for the number of times you set.
You can track your balance, which updates after each spin, on the top left of the screen.
Free Spins: Land 3 Free Spin symbols on the first, third and fifth reels with Wild symbols
Land 3 Win symbols in the 1st, 3rd, and 5th reels on your last Free Spin and you get 7 Win Spins.
With every 7th spin you have a chance to get 21 Free Spins.
Every 7th spin offers the chance of a Win Spins retrigger.
With Win Spins you are guaranteed a win on every spin. Every 7th spin comes with a chance of a Wild Spin retrigger.
Wild Spin symbols lock in place during the round increasing your chances to win.
Land 3 Wild Spin symbols on the 1st, 3rd and 5th reel of the Win Spin round and you win 7 Wild Spins.
Classics are classics for a reason. It's the small tweaks that make 777 Strike better. They're not ground-breaking but it brings a new dimension of gameplay to a classic fruit-based slot game.
Fans of old-school slots will love this game. If you're not but are looking for a game that offers stripped down mechanics, then this is the game for you. Game volatility is medium to high, with a maximum win cap of x2500, so this is a game worth your time. Its not as easy as it sounds to get Win Spins and Wild Spins, but when it happens, you'll be glad you chose to play 777 Strike.
So, give it a go, and let Lucky 7's work their magic.