Different motivations. Same unrelenting drive. Get to know the powerhouse leaders of the North-West Stinging Bees.
COACH: Phemelo Daniel Kgopotso
Why did you want to become a coach?
I love basketball and by the time I started, there were no coaches in our region, and I was nominated as the first coach. I was motivated from my late wife and my children. They pushed me and showed me that I can make my dream real. I also believed in my team's talents and saw that they were more than capable to go very far. I then promised myself that I would do everything to make themselves believe that they are able.
How would you describe your coaching style?
I always motivate them as they give me motivation. My juniors are my inspiration. Communication is always key for my players and listening to their opinions. This way I will better my coaching skills.
What qualities do you look for in your players and team captain?
We have five key points that I look for in a player before going into a game, strength, poise, balance, communication, and strength of mind.
Describe one of your most successful moments as a basketball coach?
It was a league game that we played in Bloemfontein. My team didn't have the correct classification points to start the game and we were short of a one pointer player. I picked a lady who was playing for the first time ever, but she showed promise in practice. That game was one of my most unforgettable experiences because we won on believing in ourselves, even though we were short of players.
Describe your approach when it comes to teaching new skills and techniques?
We do team talks and make sure we understand each other before implementing game plays and tactics. We need to adapt to what we have and play to our strengths and to the opposition's weakness. We also teach them to play to the whistle and not to stop until the stopwatch is called.
What is it about coaching in the NWWBL that makes you excited and keeps you motivated?
As a coach, we meet different people and coaching taught me how to make friends and how to support each other. Not only did it teach me about my strengths and weaknesses, but it also taught me how to be patient when dealing with disabled people. This became my support structure as much as I support them and I coach knowing that my family and late wife were there for me every step of the way, in every game, showing me that I can do this and I am able to do so.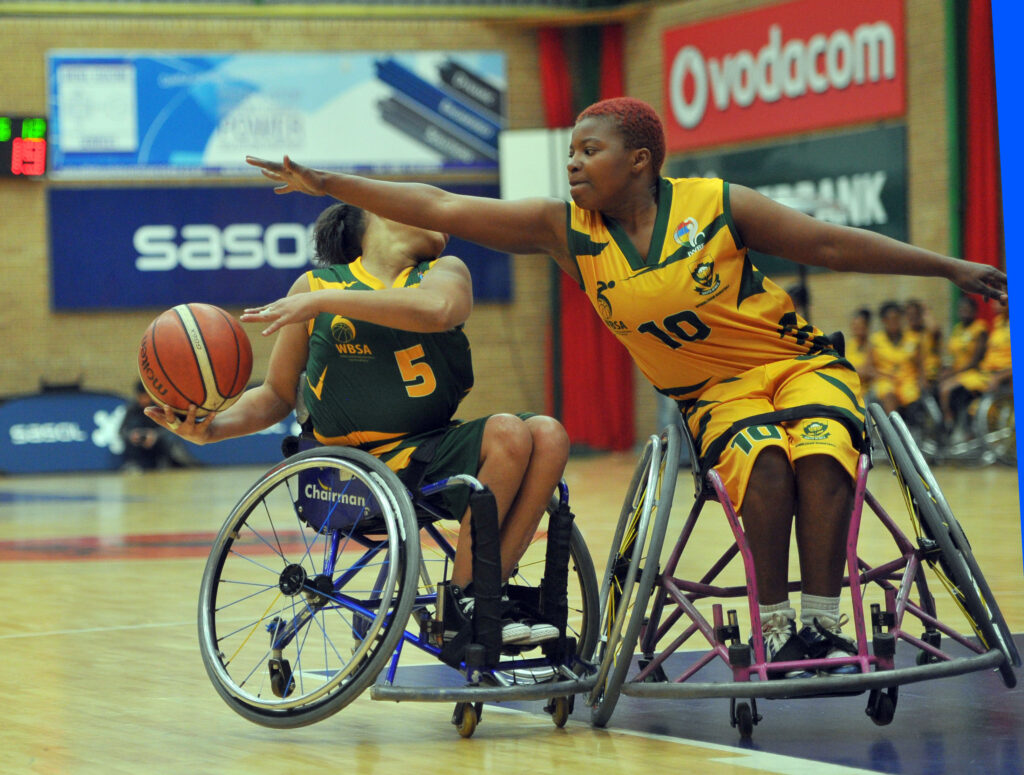 CAPTAIN: Kelebogile Moeng (33)
Playing since: 2007
Classification: 4.5
Disability: Club Foot
Tell us a little about your journey to the league?
My journey in wheelchair basketball began when my Guardians took me to a special school called TLAMELANG due my disability. This is where I saw wheelchair basketball for the first time. I was encouraged by the school coach Mr. Phemelo Kgopisho to play basketball and that is where I started to have interest in basketball.
Why did you choose basketball?
I chose basketball because it was interesting watching players moving in wheelchairs with such incredible skills whilst also playing with the ball. That's where the love of basketball started.
In sport, the goal is to win. Is this true for you or are their other goals that are just as important?
I do believe in winning, but also believe that sometime mistakes can be made, and these mistakes can cost you a game. So, my goals are to learn from those mistakes.
Is there a team or player you are looking forward to playing against? And why?
Yes. I always looking forward to play against Algeria because that's the team that has always beaten us, but my heart tells me that we can beat them. We are training hard for that day.
What are your strengths as both a captain and a person?
I keep my team upbeat and positive.
If my teammate is down, I pick the player's spirit up.
I firmly believe that the best interest of the team always comes first.
I expect and demand the best from themselves and their teammates.
I choose my words carefully when I speak to my players.
I understand that mistakes will be made.
What does 'playing' in this league mean to you?
It means that we as players have the chance to show our talent so that we can be chosen to represent the SA National Women's team.
What is one important lesson you've learned from your time playing wheelchair basketball?
I've learnt that practice makes perfect. I must always be positive and play to my best until the final whistle.